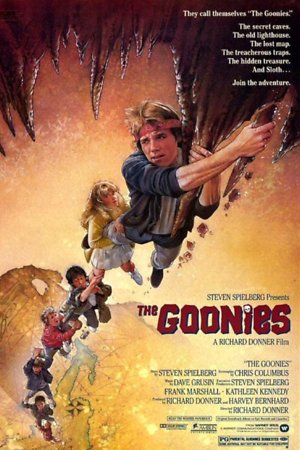 Movie Poster
The Goonies

(1985)

The pirates map, The villainous crooks, The underground caverns, The booby traps, The skeletons, The monster, The lost t

Rating:

4.1

/

5

(

7

users)

*New - please help rate it

Rating:

PG


imdb: 7.5


Runtime:

114


Theater date


June 7, 1985




Theater gross




$61.4 mil




Genre(s):

Adventure

,

Comedy

,

Family




Trailer

Overview

A group of kids discover a treasure map that leads them on an Indiana Jones-style adventure. Hindering them in their pursuit of the treasure is the Fratelli family, which is made up of a hardened criminal and her three sons. One of them, the physically deformed Sloth, has a kind heart and decides to help the kids instead of trying to harm them. Throughout the adventure, the young friends face many obstacles, but they are thrilled to be able to operate in a world where they feel grown-up and independent. What's more, if they're able to retrieve the treasure, they plan to use it to save their neighborhood from being taken over by a golf course.