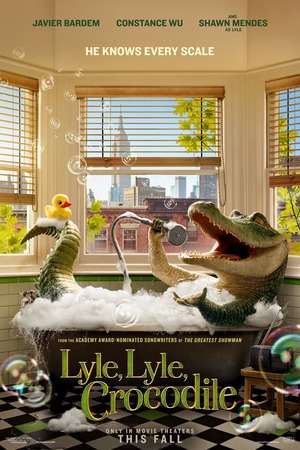 Movie Poster
Lyle, Lyle, Crocodile

(2022)

Lyle, Lyle, Crocodile DVD and Blu-ray release date is set for

December 13, 2022

and available on Digital HD from Amazon Video and iTunes on

November 22, 2022

.

Rating:

4.1

/

5

(

32

users)

*New - please help rate it

Rating:

PG


imdb: 6.3


Runtime:

106


Theater date


October 7, 2022




Theater gross




$45.7 mil




Genre(s):

Comedy

,

Family

,

Music




Movie Homepage


Trailer

Overview

Josh Primm and his family move to New York City. At first, Josh struggles with this new chapter in his life. However, the Primm's lives are turned upside down when they discover a singing crocodile named Lyle. Josh and Lyle take an immediate liking to each other. His owner, the eccentric Mr. Valenti, informs the family that his pet crocodile is missing. Lurking behind the scenes is Mr. Grumps, their nasty neighbor who would do anything to have Lyle captured. It's up to Josh to keep Lyle safe and show the world the unique talent of a special crocodile.