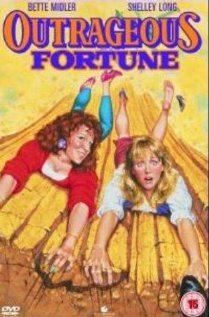 Outrageous Fortune

(1987)

The CIA is trailing them, the KGB is tracking them, the phone company is tracing them, the police are chasing them, the

Rating:

5.0

/

5

(

<5

users)

*New - please help rate it

Rating:

R


imdb: 5.7


Runtime:

100


Theater date


January 30, 1987




Theater gross




$52.9 mil




Genre(s):

Action

,

Comedy

,

Mystery




Overview

Lauren is a classically trained ballet dancer looking for her big break in stage theater. Sandy is a spontaneous personality with absolutely no acting training. These two wildly different women collide in a clash of wills as they vie for a seat in an important stage class. Unbeknownst to either of the women, they are also dating the same man, named Michael. When he goes missing, Lauren and Sandy take it upon themselves to look for him. Crossing the country with catastrophes around every corner, the women dive deeper into Michael's world and find that he is harboring many secrets. With the KGB and CIA slowly entering the picture, Michael is turning into a villain instead of the perfect man. Lauren and Sandy find a way to work together as danger confronts them each day.